Training a new generation of female rugby players
At just eleven years of age, Lailor (pictured) joined the ChildFund Pass It Back program.
At that time, she would help her parents with housework and also looked after family's grocery store. Taking part in a new sport with new people was not easy.
Lailor explains: "When I first joined the program, it was very difficult because the players came from different schools and we were not familiar to each other.
"We spent almost a month getting to know each other. During that time, I played rugby twice a week after school."
At the age of 14, Lailor turned her attention to coaching. "I started playing rugby since grade 6," Lailor says. "I had been playing rugby for almost three years before applying to become a coach with Lao Rugby Federation. Now I've been a coach for almost two years."
ChildFund Pass It Back aims to build a new generation of leaders through sport, and is implemented by ChildFund in partnership with Asia Rugby and World Rugby.
Lailor says: "I have learnt a lot from the program, including leadership skills and goal setting." As coaches and players are trained to work with local and overseas staff, the program also provides opportunities for them to practice their communication skill with people from diverse backgrounds.
"Not only am I playing sport, the program also teaches me English. That's very useful for my future career," she says.
Having a better understanding of issues around gender equality has also been an important part of Lailor's learning. She explains: "When my friends told me not to play rugby with boys, I replied that boys and girls are both human beings. We have the same rights; we are friends and can play together."
Lailor also has new aspirations for the future. "I won't stop developing myself in term of being a coach," she says. "My passion is to train a new generation to become great rugby players."
In the meanwhile, Lailor is focused on completing high school, and hopes to continue her studies at university.
"I want to encourage other friends who are interested in playing rugby to join us. Don't be afraid of anything!" Lailor says. "It is a chance to create friendships and have varied experiences that children may not find in school."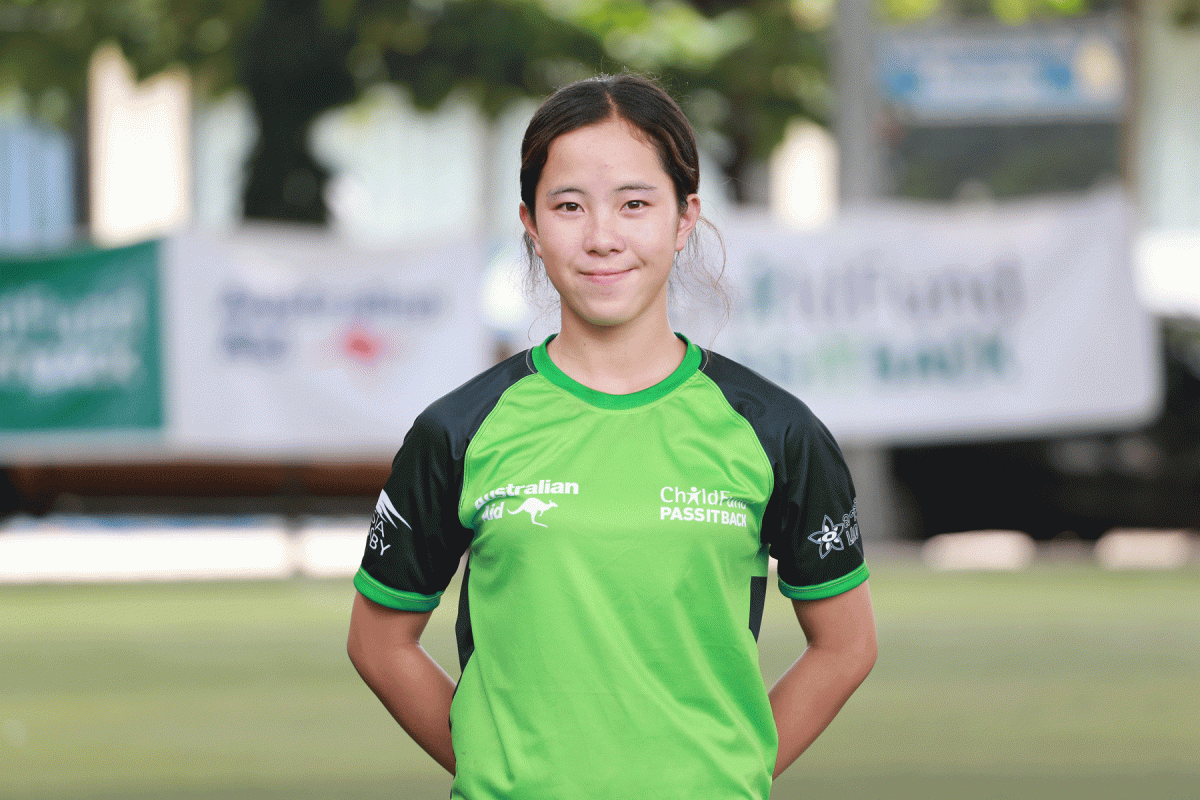 Lailor says the ChildFund Pass It Back program has taught her English, and leadership and goal setting skills. She has also learnt about gender equality.
A Journey Across Continents: Two cyclists look back at DHL race to Rugby World Cup
Read Story
Three ways playing sport promotes gender-equality
Read Story
Hien is defining leadership this International Youth Day
Read Story
There's always so much more to a story!
Get all the latest stories from ChildFund Australia