Sponsor a community,
change the world
As a community sponsor, you'll make a huge impact by tackling the root causes of child poverty and helping communities become self-sufficient.
Your community sponsorship will be used to deliver projects that benefit the most vulnerable children and their families.
Our supporters are currently sponsoring communities in Laos and Papua New Guinea.
How Community Sponsorship Works
Your community sponsorship ensures that no one gets left behind.

Choose a country.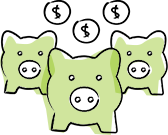 Your donation is pooled with other community
sponsors to fund child-focused projects.


When the community becomes self-sufficient,
you can then choose other communities to sponsor.
Projects funded by sponsors like you focus on the needs of vulnerable children, strengthening education, health, resilience and child protection in communities. Together we can address the root causes of poverty and ensure no one gets left behind.
Your community sponsorship funds are pooled with donations from other supporters to help transform entire communities. Community sponsorship funds help provide healthcare, safe drinking water, education and income-generation skills for individuals and families, ensuring no one in a community is left behind. Children are at the centre of every locally developed initiative, and there is a focus on empowering community members so they can help themselves and reshape their own futures.
Every project funded by community sponsorship is planned to deliver the greatest benefit for vulnerable children. These projects focus on four areas of community life:


Water & Sanitation
Improving community health through clean water, toilets for schools and homes, and training in healthy hygiene practices.


Education
Improving access to education for children by training teachers, improving school buildings and providing learning materials.

Child Protection
Building the resilience of children within the community, and strengthening the processes that protect them from violence and exploitation.


Health, Nutrition & Food Security
Providing better access to medical care, education about nutrition, and training for families in agriculture and livestock management.