At ChildFund, our aspiration is for every child to be able to say:
"I am safe.
I am educated.
I contribute.
I have a future."
ChildFund Australia works in partnership with children, their communities and local organisations to create lasting change, respond to humanitarian emergencies and promote children's rights.
Our organisational aims are also aligned with the Global Goals: to end extreme poverty, fight inequality and injustice, and fix climate change. This also includes specific targets to reduce violence against children, which has been the cornerstone of ChildFund's Free From Violence campaign.
In order to support these targets, ChildFund's programs focus on promoting the participation of children in community life, strengthening their protection, and advancing their rights, so that all children, regardless of their birthplace, have access to the same essential opportunities.
See where we work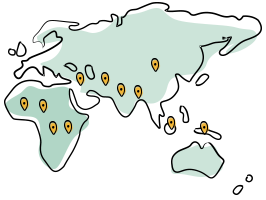 Nearly 36 million
children and families
being supported across
70 countries