Local Partner Profile: Action to the Community Development Institute (ACDC)
ChildFund is committed to partnering with local organisations in the communities where we work, to reduce poverty and achieve long-term and continue improvements in the lives of children and their families.
We believe that working with local partners enhances our capacity to realise children's rights and improves the effectiveness and reach of the programs we support. By working together, we can harness local knowledge, ensure community needs are met and promote transparency and accountability.
In this series, we will introduce you to our incredible local partners, whose work is changing the lives of children throughout the Asia-Pacific. This week we spoke with Ms. Nguyen Thi Lan Anh, Director of the Action to the Community Development Institute (ACDC) in Vietnam.
When and why was the Action to the Community Development Institute (ACDC) established?
Action to the Community Development Institute (ACDC), formally Action to the Community Development Center (ACDC), is a local NGO in Vietnam founded in 2011. We work with and for people living with a disability and support them in many aspects of community life.
ACDC is an organisation made up of individuals living with disability. We promote and support activities that support people with disabilities, improve their quality of life, advocate for their rights and the ability to live independently and to help break down the stigma against those with disability so they can contribute more meaningfully to their community. Our motto is to 'leave no one behind'.
The ACDC has been a pioneer in Vietnam in advocating for people with disabilities and is an active member in the People with Disabilities (OPD) network.
Can you share the vision and mission of the organisation?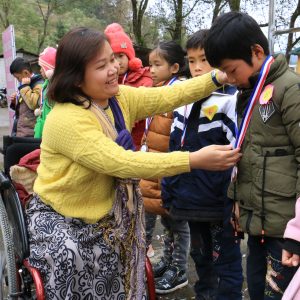 Vision: To be a reputable organisation in improving quality of life, promoting the full and effective participation of persons with disabilities and vulnerable groups.
Mission: Our mission is to contribute to the inclusion, equality, and equity of people with disabilities and disadvantaged groups through activities that ensure rights and promote support models.
Since the organisation was founded, what activities has ACDC undertaken?
In the last ten years, we have had many successes with our policy advocacy, building support and development networks for people with disabilities and change perceptions about people with disability. The ACDC has carried out activities to support people with disability through the COVID-19 pandemic such as providing food and other supplies to people with a disability during the lockdowns.
How long has the ACDC worked with ChildFund Vietnam?
The partnership between the two organisations started in 2015 when we worked together on an education project in Cao Bang and Hoa Binh and a health project in Bac Kan. Since then, ACDC and ChildFund Vietnam have formed a close partnership. Together, we have implemented long-term programs to benefit people with disability, their families, and the wider community.
Can you share more about the future of the organisation?
In the future, we will continue to support people with disabilities, policy formulation and implementation agencies as well as all work with partners to implement programs that work towards equal rights of people with disabilities. We will focus more on advocating for people with disability and supporting the development of support service models. The ACDC will also advocate more for the rights and interests of women and girls with disabilities.
What has been your most memorable experience working with the ACDC?
I have many memories working with the ACDC, particularly from when we started working on programs in Cao Bang and Bac Kan.
In Bac Kan we created the Na Ri self-help group – a support and advocacy group for those living with disability. This group was built from the ground up to better integrate people with disability into society and has been a step towards raising awareness for people with disability in the community here.
The self-help group was launched in 2019 and then in 2021, the district's Association of People with Disabilities was then created, becoming the first association of people with disabilities in the area.
Christmas Gifts for People Who Have Everything
Read Story
Families learning to care for children living with disabilities
Read Story
Mithusa is working towards a big milestone – taking her first steps
Read Story