"I now believe that nothing is impossible."
In October 2021, Bui Thanh Huyen was awarded a Women of the Future Award because of her inspirational work coaching rugby for young girls and advocating for gender equality. She is a coach for ChildFund's Sport for Development program, Pass it Back in the Kim Boi District, Vietnam.
The Women of the Future Awards recognises women from a variety of sectors who are unafraid to challenge gender stereotypes, break boundaries and drive policy change through hard-work, courage, and determination.
"It is critical for our society to have more women in leadership roles. When women have equal access to spaces where decisions are being made, it will benefit everyone," said Huyen.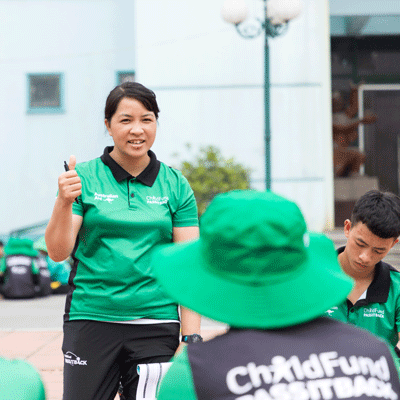 Using sport as a platform, the ChildFund Sport for Development program, Pass It Back, challenges gender stereotypes that prevent girls from accessing higher education and leadership roles and equips young girls and women with important leadership and life skills to reach their full potential. Pass It Back is committed to achieving 50% female participation at all levels of the program and fostering an environment where both male and female participants can thrive.
Huyen is passionate about women's leadership and believes that to achieve gender equality, women need to lead the conversation.
Huyen was born and raised in a mountainous province in Northern Vietnam, where rugby was unheard of and women, and girls weren't encouraged to take part in sports. As a farmer, a wife, and a mother, she used to spend most of her time either at home or in the rice field, contributing to the family livelihood.
"When I joined ChildFund Rugby's Pass It Back program in 2015, I took part in a bunch of trainings. I learned so many things I didn't know before. Besides learning a new sport, I also learned life skills that are useful for me both on and off the pitch. I wanted so much to pass this knowledge to the younger generations," said Huyen.
Huyen loves being a coach so that she can contribute to bringing children in the community, especially girls, the opportunity to play sport and learn valuable life skills in a safe and fun environment.
"Where I come from, girls don't have the same opportunities because they are expected to stay home to help their parents with house chores. I wanted to change that, and that is what drives me to work harder each day."
She advocates for boys and girls to have equal access to sporting and education opportunities. "I've learned that women can do whatever they want and be as good as men, regardless of what the society says. They can play rugby. They can coach. They can be leaders."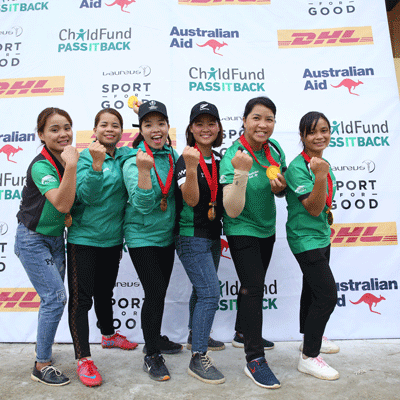 Two years after becoming a coach, Huyen was appointed to be a Coach Group Leader. In the role she managed and provided support to the other coaches in her area. The same year, she started her role as a Life Skills and a Measuring Change Coordinator. Huyen later travelled to Laos and Cambodia to support Coach Trainings in those countries. In 2020, Huyen become an Area Manager, overseeing the implementation of all rugby and life skills projects in Kim Boi District.
She says that leadership can be as simple as providing support to someone and that anyone can be a leader. "I now believe that nothing is impossible. Anyone can be a leader. Becoming a coach gave me the opportunity to continue my once incomplete education in another way and I've learned and grown so much from that."
When asked how she felt about receiving the Women of the Future award, Huyen smiled and said, "I am not the only one. Every female coach and player in our program is a future leader."
In the future, Huyen hopes to continue to promote gender equality. "I hope that what I have been doing will inspire and encourage other women and girls in my community to step up and raise their voice so that they can claim their rights, make their own decision and do what they want to do. I now believe that nothing is impossible."
Christmas Gifts for People Who Have Everything
Read Story
Families learning to care for children living with disabilities
Read Story
Mithusa is working towards a big milestone – taking her first steps
Read Story