Before COVID-19, Jacob wasn't always hungry

Jacob, age 12 (pictured, left), is the second oldest of four siblings living with his family in one of Kenya's largest urban slums. Jacob's family is vulnerable, but before COVID-19 he and his brothers and sister had food to eat and hope for the future.
When COVID-19 arrived, the market where Jacob's father worked shut down and the family suddenly lost their only income. In a country where one in three people live on less than $3 a day, Jacob and families like his need your support today to battle the impacts of COVID-19.
Hunger isn't a symptom of COVID-19, and with your help it doesn't have to be a consequence
of this pandemic.
Jacob, his siblings, and the millions of children like them across Kenya, face severe risks. If children, particularly those who are under five years old, do not get adequate nutrition, it can lead to lifelong complications. Children who are malnourished are more vulnerable to disease. Malnutrition can cause long-term physical damage such as bone disorders, lack of growth, stunting and cognitive development impairment.
The word "unprecedented" is overused to describe COVID-19. Some aspects of this pandemic are unlike anything we have seen, but the challenges facing vulnerable children are not new. In Jacob's case, the problem is clear: he needs food. It's as simple as that. And the food is available. He just needs your support to get it.
COVID-19 has left millions of children hungry

The pandemic has left millions of children like Jacob in Kenya without enough to eat. These children are facing a daily reality that is devastating and heartbreaking: find food, or go hungry.
"We can eat today, but then tomorrow and the day after we sleep hungry." – Jacob, age 12
Watch Jacob's story
Donate today and help provide children like Jacob and their families with cash for food & urgent care packages.

Your donation can help families who have lost jobs because of the COVID-19 crisis and keep food on the table.
A transfer of cash provides families with the flexibility to purchase basic necessities without having to sell livestock and household items to survive.
Your donation will go to the families who have been most affected by COVID-19, specifically families with children under the age of five, people with medical conditions, and families who have lost income.
COVID-19 means families are facing significant crisis
In 2017, as an Ambassador for ChildFund, Danielle Cormack visited Kenya at a time when the country was ravaged by drought.
Urgent care packages
When food is not available or markets are closed, urgent care packages are provided to ensure children and their families have food. These packages contain enough food to feed a family-of-six for one month.
Urgent care packs typically contain 24kg of maize, which is a staple food used in many Kenyan dishes. It also includes 10kg of nutritious beans, peas or lentils and 2L of oil for cooking. In addition to food, vulnerable families also receive clean water, soap and other basic necessities.
PLEASE DONATE

Where your money goes


79 cents
in every dollar goes directly to helping children in poverty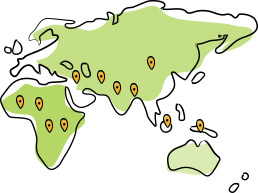 Almost 16 million
children and families being supported in over 60 countries
Calculate your tax benefit
Enter your donation amount to estimate your potential tax benefit.
If you donate
$
On a before tax income of
$
The actual cost of your donation is
$xx.xx a xxxx
Because you save
$xx.xx a year on tax
This table is based upon 2019-2020 ATO individual Income Tax rates. The above rates do not include the Medicare Levy of 2%. The exact level of your tax deductibility will vary depending on your present financial circumstances. Please seek assistance from an independent taxation professional for formal guidelines.
Frequently Asked Questions