Van speaks at Youth United Nations event
At just 14 years old, Van was one of the youngest speakers at the United Nations High-Level Political Forum held in July 2021.
Van took part in the youth event, Child and Youth Experiences and Activism for Achieving the Sustainable Development Goals and Promoting a Fairer and Greener COVID-19 Recovery for All, at the forum.
She was supported by ChildFund Vietnam and was one of seven youth advocates from around the world who attended the UN forum.
For Van it was a unique opportunity to share her experiences on the world stage of COVID-19 and sustainability in her community in Vietnam.
As a teenager, Van leapt at the opportunity to take on a new challenge and joined a ChildFund run filmmaking group called 'Connecting and Creating Leadership'. She worked with her teammates to produce two short films, one about environmental pollution and the other about her dreams and aspirations and those of her peers.
Van then joined a team that worked to raise children's voices on safeguarding issues, with support from ChildFund. The group works together to identify issues of child protection in their community and bring these issues to the attention of local leaders so they can take appropriate action.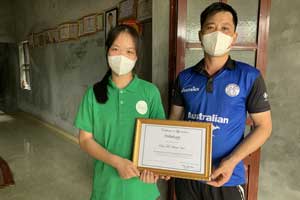 When she's not taking part in child safeguarding activities, Van is busy playing rugby. Her father is a rugby coach for ChildFund Sport for Development's Pass it Back program. He learnt about gender equality and the importance of sport for young girls in the program, which led him to encourage Van to join.
"Being a rugby player is so great to me because not only can I play a sport I like, but I have learnt a lot about life skills about health, leadership and teamwork," Van said. "I often encourage my friends to register to join the program."
Van said she was grateful to have been able to take part in the UN forum and is excited about future opportunities where she can have her voice heard.
Amplifying the voices of changemakers this International Day of the Girl Child
Read Story
"We are all the same. We are all human." Redefining gender equality roles in education in Laos.
Read Story
What is International Day for the Elimination of Violence Against Women?
Read Story
There's always so much more to a story!
Get all the latest stories from ChildFund Australia