Celebrating two determined leaders this World Youth Day
This International Youth Day, we're celebrating two determined leaders from Vietnam. Young people have the right to have their voices heard and considered in the issues that impact them.
Ngan, age 12, and Viet Anh, age 11, are two young leaders from the Bac Kan province, chosen by their peers to represent them at the Provincial Children's Forum.
This Forum is a chance for children and young people to come together from different parts of their province and share their experiences and the challenges they face as young people. They have the opportunity to raise awareness on the issues that are important to them and advocate to provincial leaders for change so that community leaders can create an action plan. At the forum, they work together in small groups to present on an issue.
The Children's Forum is held annually in the Hoa Binh, Cao Bang, and Bac Kan Provinces. We spoke to Ngan and Viet Anh about their experience.
How did you feel when you were chosen to represent children and young people from the Bac Kan province at the forum?
Ngan: I was very surprised, happy, and proud to be chosen to participate in the Forum and represent over 80,000 children in the province.
All other children participating in the city level forum were great, yet they voted for me to represent them in the province level forum.
Viet Anh: I am very happy and proud as I get to exchange knowledge with friends and learn many interesting things.
How do you feel after taking part in the Provincial Children's Forum?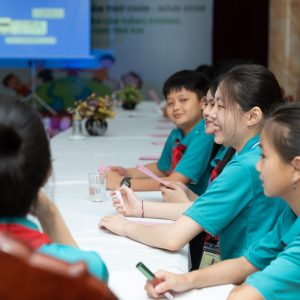 Ngan: My friends and I feel both happy and sad.
Happy since we got to hang out and learn together, do teamwork, participate in many activities such as swimming at the Children's Centre and visiting Bac Kan Province Sponsoring Association for People with Disability and Orphans.
But we were also sad to leave each other. I got to make friends with people from other districts. We will keep in touch though.
Viet Anh: I am very happy. After a full day of training, we were led by the teachers to visit the Bac Kan Province Sponsoring Association for People with Disability and Orphans. I got to speak to children with living with a disability. After that, we were taken to go swim at the Children's Centre.
I got to make friends with other people from other districts which was really fun. We still keep in touch, and I hope we get a chance to meet again next year.
Which group presentation were you most impressed with and why?
Ngan: I was most impressed with the group presenting on child sexual harassment since they gave a very strong opinion on the matter and showed us how to prevent such harassment. From their performance, I learned how to prevent sexual harassment for myself when I am in a similar situation.
Viet Anh: I remember the presentation of a group on physical and mental harassment since they provided reasons leading to such harassments. From there, I learned how to apply suitable and effective solutions to prevent these harassments.
What were you most impressed with at the forum?
Ngan: I was impressed with the dialogue section between children and local leaders where groups raise opinions and were responded by local leaders. For example, on the question on how to prevent child sexual harassment, a province leader has responded and provided solutions for harassment prevention.
Viet Anh: I was impressed with the children's drawings. I think they are so creative and smart to reflect a story of a child who was sexually harassed as well as the solution to the story through simple drawings.
What does the forum mean to you and other children?
Ngan: The forum is very meaningful, it gives us a place to have fun and allows us to raise our voices, helps us make many new friends and participate in many useful activities. I learned a lot of useful knowledge about children's rights and how to prevent when we are sexually or physically abused.
Viet Anh: The forum enhances children's capacity in realising children's rights, creates a favourable environment for children to voice opinion on issues related to us, and enhances the responsibility of party committees, authorities, and organisations in the implementation of child law, child rights, and child protection work, especially around safety assurance and prevention of violence against children.
Can you give an example where recommendations made at the forum have been implemented by provincial leaders?
Both: In recent Children's Forums, children have voiced their opinions on the issue of child protection at a grassroots level. Local leaders have stepped in by focusing on building a child protection system at the grassroots, the Department of Labour – Invalids and Social Affairs has developed guidelines for the establishment of a Standing group for child protection and a team of child protection staff in the communes. At the same time, the Department of Labour, Invalids and Social Affairs also advocates for policies to provide financial support from the state budget for child protection workers.
In the report on plan implementation from recommendations of children at the previous Forum, particularly on online safety for children, the leaders mentioned what they have done such as organising communication sessions on online safety for students in school, in summer activities.
Learn more about our work with children and young people in Vietnam.
How you can support International Youth Day
Read Story
What is International Day of Persons with Disabilities?
Read Story
Six girls in Laos tell us why they're proud
Read Story