Children's Digital Worlds Just Got Safer In Laos
In Laos, children and young people are learning to protect themselves in this digital age through ChildFund's online safety training.
Phouthdavanh, 14, is helping her friends interact safely online. She is part of a new wave of young people across Laos taking action to protect their rights and wellbeing and create a more positive future.
Phouthdavanh has been a youth trainer in her community in Sayabouly Province for two years.
"I wanted to become a trainer to learn new skills and help my friends at school stay safe online."
Through ChildFund's online safety training course, Phouthdavanh has gained invaluable knowledge and skills, becoming more aware of online risks and a more confident communicator. She says she now recognises the crucial role young people like herself can play in highlighting children's rights in the digital world.
"I have learnt how to encourage young individuals to think critically and take necessary measures to protect their personal information and adopt safe social media practices," says Phouthdavanh, adding she now understands the potential dangers of revealing too much online.
"As a young person, I believe that the most dangerous aspect of the online world is sharing excessive personal information. If we reveal too much, hackers can misuse our information on multiple platforms, leading to massive losses for us. I am no longer sharing too much personal information, and I'm helping my friends do the same."

Navigating online spaces
The internet has revolutionised the way we live and work. From communication and education to entertainment, it has become an essential part of our daily, increasingly digital, lives, no longer a luxury afforded by few. But with greater connection and convenience comes new dangers and threats, especially for children and young people who often need more guidance and knowledge to stay safe online.
ChildFund in Laos have been training and supporting young people to become online safety ambassadors and positive influences in their communities. These tech-savvy youth facilitators are helping to raise awareness about online risks and improve their friends and other students' wellbeing. As part of the program, they learn how to address online harassment and even how to monitor social media addiction among their friends. Youth facilitators can guide younger students through activities focused on the six principles of safe internet usage.

Creating a safer digital future
The online safety training has empowered 560 youth trainers across five provinces (Houaphanh, Xiengkhuang, Sayabouly, Savannakhet, and Vientiane) in Laos to share their knowledge with 35,000 children and young people. Bounlerd is 16, and just one of the many young people who has learnt how to protect himself online through the training.
"After participating in the online safety activities, I discovered I can increase the security of my Facebook account by creating a two-factor authentication and protect myself from fake accounts or scammers by blocking or removing them from my Facebook friends' list," he says.
"In this 4G era, the online world is full of dangers. It's a mixed bag of good and bad, real and fake news. That's why I urge young people today to exercise caution and be vigilant."
Learn more about ChildFund in Laos.
This project is supported by the Australian Government through the Australian NGO Cooperation Program (ANCP).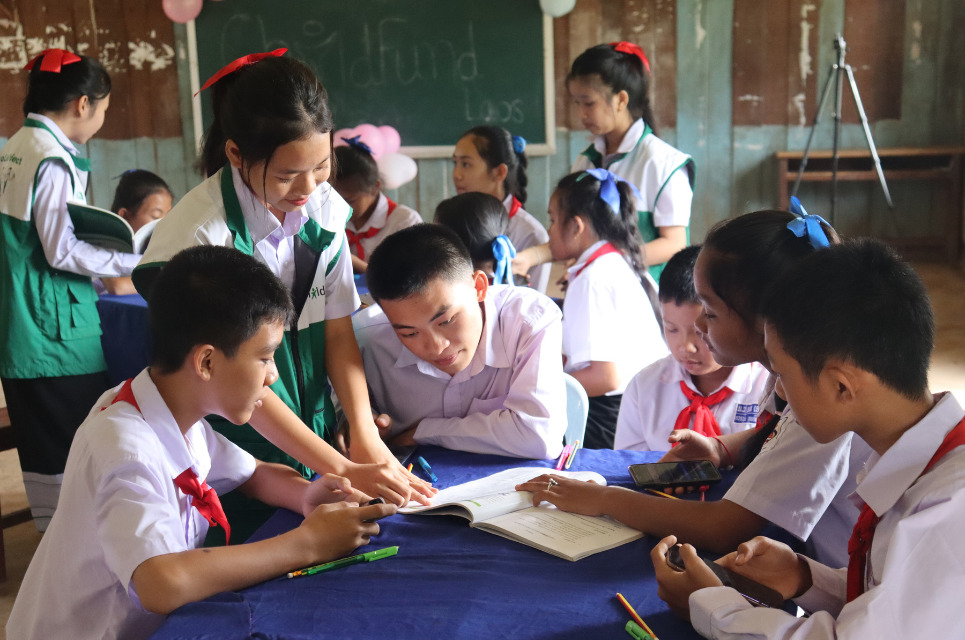 "I wanted to become a trainer to learn new skills and help my friends at school stay safe online."
– Phouthdavanh, 14
Young positive role models inspiring peace in Timor-Leste
Read Story
Children in Timor-Leste set to learn how to Swipe Safe
Read Story
Listen Up! Small voices are making big changes in Vietnam
Read Story
There's always so much more to a story!
Get all the latest stories from ChildFund Australia