From boardroom to village: Tureia and Michael visit PNG
On a recent trip to Papua New Guinea, two of ChildFund Australia's Board members discovered how grassroots activities were making all the difference in helping to protect children from violence.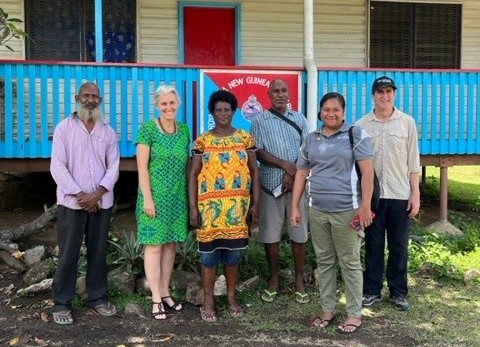 "Thirteen provinces – more than half of all the provinces in PNG – are not connected by road," ChildFund Australia Board member, Michael Pain, said of his recent trip to the Pacific Island nation. "There's a road from the capital, Port Moresby, but it ends suddenly. Beyond this, it's just jungle."
Michael, and fellow Board member, Tureia Sample (pictured above, and on the right in green and khaki), were far from the comforts of their homes in Australia when they visited Papua New Guinea (PNG) in early 2023 to see ChildFund's programs in action. The journey took them into the rural areas and remote communities, but it wasn't an entirely new experience for them: Tureia was born and grew up in PNG; and Michael had walked the Kokoda Track several years before.
But the trip in February with ChildFund showed them a new and first-hand perspective on some of the day-to-day challenges faced by people, particularly children and women, in PNG – and how ChildFund was working with their communities to create positive change.
"Having grown up in PNG, I knew about the poverty, but being there as a ChildFund Australia Board member – and not as someone in the family or the village – I saw things from a much more objective perspective," Tureia said. "I saw the challenges of poverty and development more starkly."
Child abuse is confronting but village courts 'saving lives'
Papua New Guinea has some of the highest rates of family and gender-based violence in the world. Two in three women and girls in PNG experience some form of physical or sexual violence in their lifetime.
As a lawyer, Tureia was particularly moved by the impact of the village courts system that ChildFund PNG helped to implement in remote communities in Central Province. "It's a grassroot activity empowering and training local people to resolve disputes in their villages in accordance with customary law," she said. "It's a completely different standard compared to what we have in Australia, but it was inspiring to hear the impact the courts were having on the lives of children and women in particular."
Child abuse happens in Australia, but the conditions and severity of it in PNG were confronting, said Tureia. "There was one very sobering story of an eight-year-old boy whose stepfather repeatedly used fire, knives, and razor blades to cut his genitals and burn his skin. The awareness raised by the village courts around needing to report violence led to neighbours bringing the boy before the court and protecting him.
"It's a terrible story, but it was inspiring to see how the village courts supported by ChildFund had helped to eventually save this boy's life."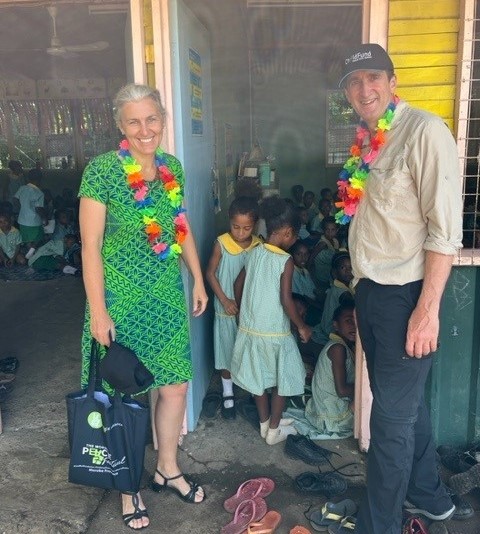 An 'enormously valuable' helpline for survivors of violence
Another ChildFund initiative in PNG to help protect children and support survivors of violence is the 1-Tok Kaunselin Helpim Lain, a national telephone counselling helpline. It is the first and only helpline of its kind in PNG for people experiencing family, sexual or gender-based violence.
Helpline counsellors, who have been trained with ChildFund's support, have access to a database of more than 350 services across the country, including safe houses, medical facilities and local police.
"It's not your average run of the mill helpline," Michael said. "It's an enormously valuable resource, but a very tough one operationally to keep up to date. There are services and facilities available all over the country, but these are extremely fluid. The capacity and level of support changes and differs between communities. If our counsellors have a caller who is in an emergency or crisis, they need to quickly determine which services are operational in the caller's area and which will be the most useful."
The helpline has expanded since it was established in 2015 and now services more than 25,000 people across PNG every year. It is gaining recognition from the PNG government and communities as an important service for survivors of gender-based violence, and family and sexual violence.
The growth and positive impact of ChildFund's projects such as the helpline and village courts support were a result of the hard work and passion of ChildFund's staff and local partners, said Michael and Tureia. The strong connections between staff and local leaders and communities have also been critical to making sure children and families get the support they need. "ChildFund Papua New Guinea's staff are very well respected in communities," Tureia said.
Michael said he was impressed by how effective ChildFund's programs were in PNG. "Given the cultural and economic challenges of the country, it was awesome to see the positive difference we are making to people's lives."
The projects in this story are supported by the Australian Government through the Australian NGO Cooperation Program (ANCP).
A stark reminder of the life-changing impact of simple things
Read Story
A new water system means more playtime!
Read Story
There's always so much more to a story!
Get all the latest stories from ChildFund Australia