"I am confident in what I know."
Online safety for children and young people is a global priority for ChildFund Australia. Today is Safer Internet Day sand this year's theme is 'Together for a Safer Internet'. In 2022, ChildFund worked with local partners to launch a global online child safety campaign.
As part of this campaign, ChildFund wrote a new interactive SwipeSafe training package for young people, parents, and professionals in Asia who are grappling with online risks.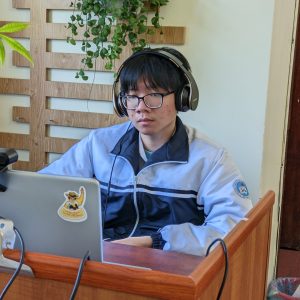 Fifteen-year-old Hien (pictured left) from Vietnam is one of 33,000 young people in Vietnam who've taken part in the SwipeSafe training.
After taking part in the SwipeSafe training, Hien went on to take part in the ASEAN-ICT Forum about child protection online in November 2022.
"In terms of knowledge, I am confident in what I know," said Hien.
It is vital that children and young people know how to stay safe online. Being online brings a wealth of opportunity such as access to education, communicating with friends and loved ones, exploring new information, interests, and ideas.
With the onset of COVID-19, more and more children and young people were relying on the internet to socialise with their peers and learn online. This put them at a higher risk of Online Child Sexual Exploitation and Abuse (OCSEA) and other forms of online child exploitation.
Because of the SwipeSafe training, more children and young people like Hien can feel safe using the internet – and reap all the benefits that the online world has to offer. The training will now be rolled out across Southeast Asia and the Pacific in 2023.
"Since the internet is permanent, harmful content will always exist and it impacts young people who accidentally encounter it, so it is necessary to have the participation of moderators to remove this type of content," said Hien.
ChildFund has been working across the Asia region for more than 70 years to protect children from all forms of violence.
Young positive role models inspiring peace in Timor-Leste
Read Story
Children's Digital Worlds Just Got Safer In Laos
Read Story
Children in Timor-Leste set to learn how to Swipe Safe
Read Story
There's always so much more to a story!
Get all the latest stories from ChildFund Australia