Six girls in Laos tell us why they're proud
At ChildFund Australia, we love hearing from the young people about what inspires them. We recently spoke to six young girls in Laos that took part in the 'Child Life Skills Empowerment Project' about what makes them proud. Here's what they had to say:
Moukdavone, 13-years-old
"The right to learn is a basic child right that enables us to feel as if we have a purpose in life. Making a difference and being great starts with learning. I am proud to be a girl. Girls can do many things like boys even though we are not as strong as boys, but I am proud to be a girl who can do everything by myself and do some work that men can't do."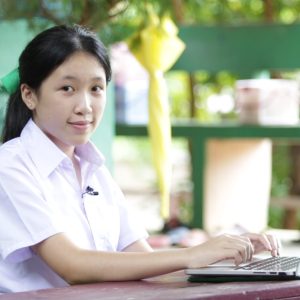 Maikeo, 13-years-old
"I am proud to be a girl, even though girls are given less possibilities than men. I am bold enough to take the initiative and accomplish things on my own."
Kitty, 11-years-old
"I've been learning guitar on my own since I was 11 years old. I learned it from YouTube videos, and I want to continue learning as much as possible. In the future, I want to be a famous musician. My pride in myself is that I dared to perform the music in front of everyone, and I am very thankful ChildFund for giving me the opportunity."
Manyta, 15-years-old
"It is critical that adults protect the child right to leisure, play, and culture for all of us as a collective. I am proud to be born a woman and proud of myself to be able to do many things without fear of any obstacles. In my opinion, both male and female have equal rights."
Mee, 14-years-old
"There are so many different ways to learn about the world around us, and I personally find reading books to be a very enjoyable way to learn about it. As a girl, I am proud of myself for being brave enough to speak up and capable of relying on myself in a variety of situations, and I am happy to be born as a girl."
Moungming, 16-years-old
"Literacy and creativity are equally crucial. Drawing is one of my favorite ways to help me improve my memory and reduce stress. As a young girl, I am proud of myself for participating in all social activities and daring to express myself in many ways."
The Child Life Skills Empowerment Project exists to improve life skills for children and young people. It builds their capacity to support their peers and empowers them with the confidence to lead positive change in the school and communities. This project was implemented in 100 schools, including 60 in the Vientiane Capital, 20 in the Xiengkhouang Province and 20 in the Huaphanh Province. It is run in partnership with The National Commission for Advancement of Women, Mother and Children.
It is through partnerships and projects that we raise the voices of the children and young people we work with. Learn more about ChildFund's work in Laos.
How you can support International Youth Day
Read Story
What is International Day of Persons with Disabilities?
Read Story
How you can support World Teacher's Day
Read Story