!-— End Google Tag Manager -->
A chance for a brighter future
A seven-year-old boy in Laos is determined to finish school, but living with a disability in a poor community means the odds are against him. The support of ordinary Australians can give children like Boun a brighter future.
By Rita Mu
Boun (above) is a shy, curious boy with a big heart.
He lives in a small, remote community in Huaphanh Province in the eastern part of Laos. It is a poor, farming village where the majority of families, including Boun's, are of the Khmu ethnic minority group.
Boun's parents work long hours, growing and harvesting rice and vegetables, to put food on the table and to send Boun and his three siblings to school.
Boun is in Grade 3.
He speaks two languages.
Khmu is his first and comes most naturally to him.
He is also learning Lao, the country's national language, which is taught in schools.
Lao is Boun's favourite subject.
He loves school and, at such a young age, already understands the value of education.
"I want to study until I graduate," Boun says.
The odds, however, are against him.
Boun has a learning disability, which makes reading and writing challenging.
His father, Xiengphet, says Boun's learning difficulties began when Boun was four years old, after he suffered a severe illness that also left him with a mobility issue that makes it difficult and painful to walk.
Boun's mother or father usually help him get to and from school each day.
Boun's peers tease him about his physical disability.
"They call me Mr Crippled," Boun says. "I don't like it." No one, especially a child, should be called Mr Crippled.
It is devastating that a child like Boun, at only seven years old, has to face so many challenges: poverty, a physical disability, learning difficulties and bullying.
Disability is not an inability
Yet, Boun sees a brighter future for himself. He is determined to keep going to school. "He is strong-willed," his father says.
Boun is also incredibly brave.
His teacher, Khamlian, has described him as a "determined" and "brave" student. "He is not afraid to ask questions about things that he is curious about," Khamlian says.
But the barriers to inclusive education in Boun's community means the chance of a brighter future for children with a disability, like Boun, is low.
Khamlian has been a teacher for 12 years. But like many teachers in poor, remote communities in Laos, he has had no formal training on how to prepare lessons for children with a disability to help them reach their full learning potential.
Schools often lack the facilities and resources to help children with a disability to excel in their studies, so they are often left behind their peers.
Stigma and discrimination also prevent children like Boun from participating in activities and opportunities.
Statistics show that fewer than half of all children with a disability in developing countries and in school complete primary education.
Unemployment among people with disabilities in developing countries is as high as 80%.
There is no shortage of love and support from Boun's family, but his circumstances are against him.
How you can help
Your support can ensure children living with a disability can access a safe, inclusive and quality education so they can have a brighter future.
Change is needed at both systemic and community levels to ensure that children with a disability have access to safe, inclusive and quality learning environments at school.
ChildFund is implementing education projects at both systemic and community levels.
In the community we are helping to provide families and schools with the support they need. This includes:
• engaging family members on how to support their child's learning;
• establishing support groups and visits for families;
• helping to identify children with a disability and assisting families to access services;
• equipping teachers with the knowledge to provide tailored lessons for children living with disability, and foster learning environments where all students are respected and included;
• helping school leaders to develop inclusive education plans; and
• developing and providing disability inclusive educational resources.
ChildFund in Laos is also organising village festivals to raise awareness of the rights of children living with disability.
At a systemic level, ChildFund is working closely with local partners, including village chiefs and local and national governments, to implement inclusive education policies and laws, and overall reduce the stigma and discrimination towards children with a disability.
Your support is needed to ensure we can continue this important work, which will help empower and educate vulnerable children like Boun.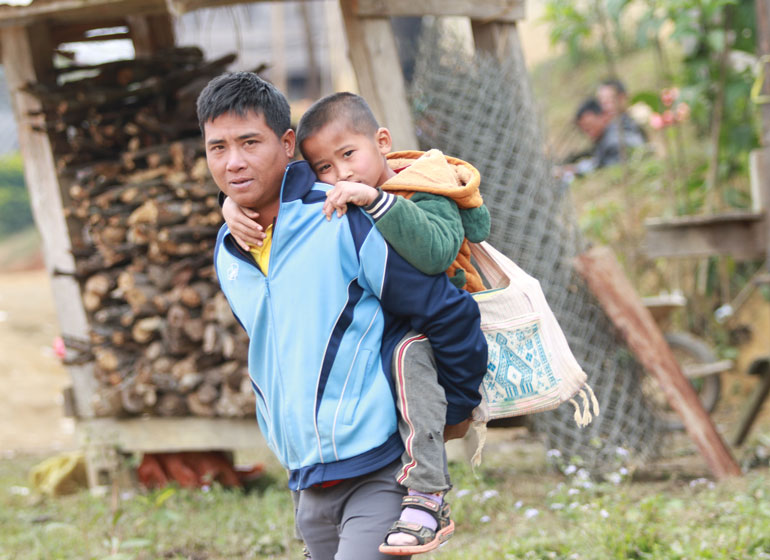 Boun's father says: "I want Boun to study to the highest level that he can."
"I hope Boun will have a brighter future."
You can help children like Boun access a safe, inclusive and quality education so they can have a brighter future.