Leticia is learning at her new community preschool in Timor-Leste
Leticia, aged six, is a playful, young girl living in the Liquica, Timor-Leste. She lives with a disability that has been with her since birth.
For children living in rural and remote parts of Timor-Leste, accessing early childhood education isn't always easy – and it's even more difficult for children who live with a disability.
Early childhood education is important. ChildFund Timor-Leste worked with communities to build disability inclusive community preschools so that children like Leticia can learn and play in a safe environment. We spoke to Leticia and her mother, Apolonia, about the new school.
Apolonia
Apolonia, aged 25, is a young mother with two daughters, including Leticia. Leticia had a complicated birth. She struggles to keep her balance and often experiences weakness on the left side of her body.
"When my daughter Leticia was born, she landed on her stomach and did not cry, but after a time the midwife came and shook her, she moved and started crying, and she has had this problem," she said.
Apolonia became involved with ChildFund when they came to their town build a preschool that Leticia now attends. ChildFund provided learning materials, training for the teachers and toys for the school.
"When she first started school, we were anxious. But after one week at school, I could see that she was happy because of her friends, she was learning many new things, we can see that she can writes even though still unclear what she writes. She showed us at home all the things that her teachers taught her, she can dance, she learned the ABCs."
Apolonia has seen many changes in her daughter since starting school. Her numeracy and literacy skills have significantly improved.
"I'm moved by her progress, and she smiles happily, and plays with friends."
ChildFund partnered with parents to encourage them to take an active role in their children's education. "I want to help my daughter even though she lives with this disability. I don't want to look at her situation and limitations, but I want to help her to achieve her goals and I'm thankful for ChildFund because they built the preschool here in our village."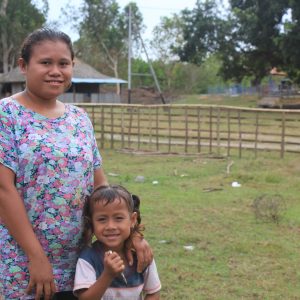 Leticia
Six-year-old Leticia is happy to learn and play with her friends at school.
"I came to new school happy. I like the teachers teaching and when we sing songs together," she said.
Her favourite activity is writing. Leticia speaks slowly, but she is improving her speech impediment and is able to communicate better with her friends and family. She has dreams of being a teacher when she grows up.
Romalda – A volunteer teacher at the community preschool.
"I want to help young children to come and learn," said Romalda.
Romalda is a volunteer teacher at the new preschool in Liquica. Over the last year, she has faced may challenges in keeping children enrolled in school. At the start of the school year, she had 27 students and now she has 19.
"I tried talk to their parents, and they told me they do not have time to bring their child to school because they are in farm, they said next year they will bring their child to school."
Despite these challenges, she is passionate about teaching. Leticia is one of her students. Romalda believes that every child like Leticia should be given an opportunity to learn.
"When Leticia first came to class, her hand was soft and she stuttered, so we helped her by drawing dots on her notebook so she could write by following the dots, and we assisted her in holding the pencil."
Romalda and other community volunteers attended training organised by the National Institute for Training of Teachers and Education Professionals. ChildFund is partnering with the Ministry of Education to train a set of volunteers to improve their teaching skills.
Learn more about improving literacy in Timor-Leste.
This project is supported by the Australian Government through the Australian NGO Cooperation Program (ANCP).
What is World Children's Day and why is it important?
Read Story
What is International Day of the Girl Child?
Read Story
Meet three young changemakers in Timor-Leste
Read Story
There's always so much more to a story!
Get all the latest stories from ChildFund Australia