Why poverty is the main driver of child labour
Arun was 13 years old when he lost his left arm while working at a brick factory. His daughter Mony is now the same age and works at the same factory.
Around the world 152 million children like Mony can be found working in appalling conditions, in manufacturing, agriculture and construction.
The primary driver of child labour and exploitation is a vicious cycle of multigenerational poverty.
Lack of education forces people into low-paid jobs
If parents have no education, they often end up in low-paid jobs and rely on their children to supplement the household income.
In turn, their children miss out on school, leaving them unqualified for better paid jobs in the future.
Children living in poverty are vulnerable to exploitation and violence, such as child labour, trafficking and child marriage.
Dangerous work conditions cause injury, which keeps people in poverty
Mony's family has worked in brick factories for generations. Arun was helping his parents in the kilns as a child when his left arm got caught in a machine.
After his accident, Arun dropped out of school and tried to find safer work as a fisherman, but he could not survive on the meagre wages.
He is now back in the same brick factory, supporting his four children.The machinery is rudimentary and hazardous, and he earns less than one cent for each brick he makes
Arun's wife worked alongside him until she also suffered a severe injury. Much of Arun's wages had to go towards paying off medical expenses. There was barely enough money for food or shelter.
The only way to survive was to make more bricks. Mony, the oldest child, had to step into her mother's role at the factory.
Older children sacrifice their dreams so their younger siblings can stay in school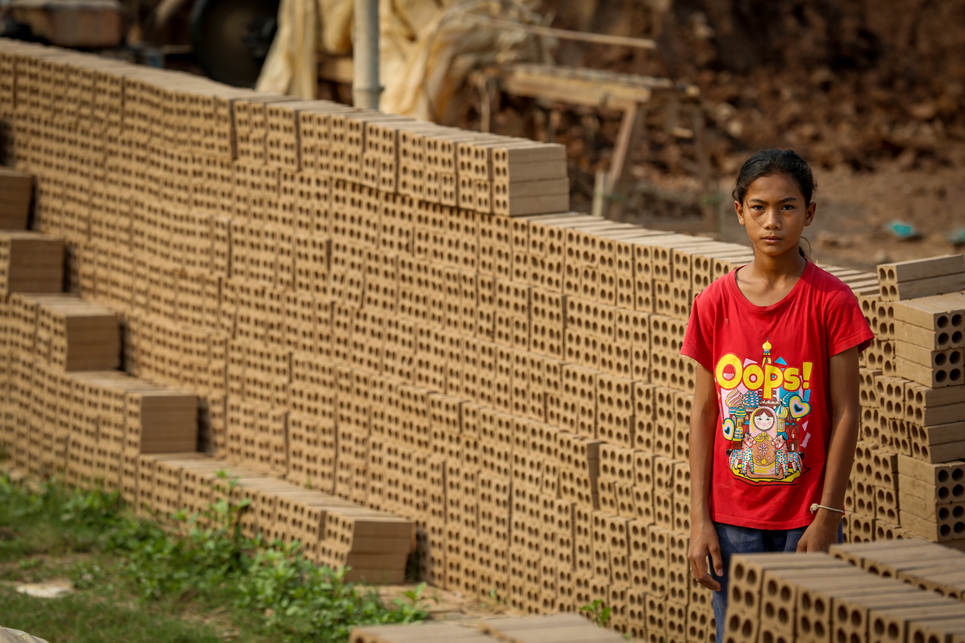 "I don't want my younger siblings to do such risky job and I want to work to support them so they can stay at school," she says.
This meant living with a constant fear of being hurt like her parents while working gruelling nine-hour shifts, carrying heavy loads and using dangerous machinery without any safety equipment.
"It's hot, hard, and sometimes risky job, but I need to do it to help my mum from a heavy debt," Mony says.
Poverty is a cycle which keeps families trapped in dangerous jobs
Families like Mony's are living in terrible poverty. Children whose parents cannot afford to send them to school live in fear of a future where they have no choice but to work in dangerous environments.
"I don't want my kids uneducated like me," Arun says. "I want them to study so they're able to find better jobs.
"But I didn't know what to do when my wife could not help me with the family income."
How is Mony's family doing now?
Mony's family situation remains vulnerable, but fortunately she has been able to return to school.
Mony knows that committing to her education is the best way to ensure that she will not have to do dangerous, manual labour for the rest of her life.
She sees a future with a better paid job, and greater opportunities.
Young positive role models inspiring peace in Timor-Leste
Read Story
Children's Digital Worlds Just Got Safer In Laos
Read Story
Children in Timor-Leste set to learn how to Swipe Safe
Read Story
There's always so much more to a story!
Get all the latest stories from ChildFund Australia