Child-friendly spaces helping children process trauma from devastating floods
In early 2021, large parts of Timor-Leste experienced torrential rain and devastating floods. Children and families were forced into make-shift evacuation centres as they either lost their home or extensive water damage made it unliveable.
In evacuation centres in Dili and Tasitolu, ChildFund Timor-Leste and local partner, Ba Futuru, established child-friendly spaces following the flooding.
These were safe places for children to come, learn, play and talk about their experiences during the floods. One year on, ChildFund Timor-Leste is keeping these spaces open to help children and young people overcome the trauma of the floods.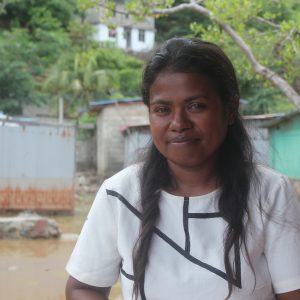 Carminda is a volunteer facilitating psychosocial sessions and other activities in the child-friendly spaces. She is happy that these child-friendly spaces are continuing to support children in recovering from the floods.
"In the child-friendly space we have training on breathing exercises, we have games and other activities where the objective is to calm children when they think about the flooding. Through this space, children can come together, process their trauma and play freely with their friends."
Carminda is passionate about teaching and has been a nun for many years. When asked to be a facilitator in the child-friendly spaces, she leapt at the opportunity. She runs two sessions every weekday and reaches 200 children in Tasu Ulun.
The child-friendly space is disability inclusive. Carminda is learning sign-language so that she can support one nine-year old girl with a hearing impairment, to ensure she can fully participate in all the activities.
One of the parents, Zelia, has a five-year-old son attending the child-friendly sessions. He is building the skills he needs to recover and cope with the remaining trauma caused by the floods.
"These sessions are really helpful for my son. He used to be fearful of the rain but through art, games and singing, he is much happier and isn't as scared as he used to be. I have noticed that he is more confident too," she said.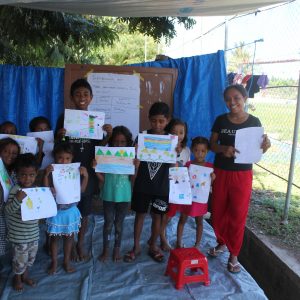 Through the program, her son receives learning packages that he can take home with him. Each pack includes a school bag, books, pencils, crayons, wooden letter blocks, and toys. "Receiving these materials really helps my son. He likes learning the alphabet and playing with the blocks. He always plays with them at home."
Twelve-year-old, Sandiana, is also attending the child-friendly sessions in Tasu Ulun. Her family was significantly impacted by the flooding. "Our house was destroyed, and we lost all of our school materials," she said. After the floods she visited the child-friendly space in the evacuation centre. "We write, we read, we sing, and we share stories."
Sandiana said that by being able to hear the experiences of others and share her own, she is no longer scared of the rain or flooding.
The child-friendly spaces are supported by the Ministry of Foreign Affairs and Trade of New Zealand (MFAT) and implemented by ChildFund in partnership with local organisation, Ba Futuru.
This project is supported by the Australian Government through the Australian NGO Cooperation Program (ANCP).
Young positive role models inspiring peace in Timor-Leste
Read Story
Christmas Gifts For Staff: 5 Charity Ideas To Change Lives
Read Story
Children's Digital Worlds Just Got Safer In Laos
Read Story