We're celebrating Dad's like Nhinh this Father's Day
As children in the Cao Bang Province in Vietnam prepare to start a new school year, one father Nhinh Van Hoang, is gearing up for his third year as a teacher's assistant.
The uncertainty of school closures due to COVID-19, has been a challenging experience for many teachers and parents, who have had to work together to guide children through lessons. Fortunately in Cao Bang, they're able to return to the classroom.
Nhinh is part of the Hmong ethnic minority, and a father of three. Three years ago in 2019 he was invited by ChildFund Vietnam to participate in a group of parents who worked as teachers assistants in their local schools. Nhinh said he was happy and felt that his life had a new meaning.
When Nhinh first began volunteering as a teachers assistant at his local primary school, he was very shy. But after taking part in a series of trainings sessions organised by ChildFund, he became more confident with teaching and supporting children to learn in both the Hmong and Vietnamese languages.
The parents' group also organised social events where they could get to know each other, share their experiences and talk about how best to support children's learning at school and at home.
Three years later, Nhinh is now an experienced teachers' assistant. He volunteers in a multi-grade classroom with 21 students – many of whom are from the Mong ethnic minority. Since many teachers do not speak Mong, Nhinh bridges the gap between teachers and students. "The teachers speak in Vietnamese and then I repeat in Hmong," he says "I try to explain in the simplest way for children to understand."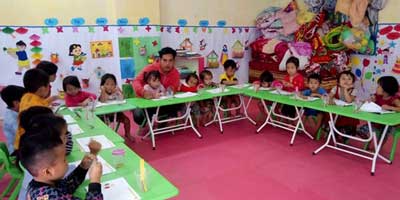 Nhinh is passionate about his role in the classroom. "Since becoming a teachers' assistant, I have understood children better and learned the difficulties teachers face. Children like having assisting parents in class. They clap whenever they see us.".
ChildFund Vietnam's Confident to Reach Dreams project is working in six communes across the Cao Bang Province to establish Hmong teachers' assistants in classrooms. This model helps to allow Hmong children to access an education in their language, and it empowers parents to be more involved in their children's education.
This Father's Day we're celebrating dads like Nhinh and there's no better way to show your dad how grateful you are than by donating a charitable gift from ChildFund's range of Gifts for Good on his behalf.
Not only will Gifts for Good bring a smile to your dad's face, but it will also give him the opportunity to make a real difference in the world.
Children in Timor-Leste set to learn how to Swipe Safe
Read Story
Emergency food for families in Myanmar after Cyclone Mocha
Read Story
From boardroom to village: Tureia and Michael visit PNG
Read Story