Twin sisters Lan and Hoa were born in November 2019 in Vietnam. Since their birth, they were malnourished and underweight. Their mother, Thuy, was worried she wouldn't know how to care for them properly.
"Luckily, Lan and Hoa were born right when ChildFund Vietnam's health project was launched in our commune. Other mothers and I were invited to participate in many activities such as weighing the children, measuring their height, receiving micronutrients for the children if they are malnourished. Parents are welcomed to participate in communication activities and are given 'Maternal and Child Health Monitoring' book to learn how to take care of their children, "said Thuy.
Thuy regularly attends training sessions to learn how to breastfeed newborns, when to start giving babies solid food, how to take care when the baby is sick and how the mother's diet should be to ensure there is enough milk for breastfeeding.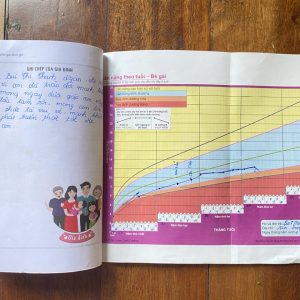 Thuy never had the opportunity to take part in these types of sessions when she had her first child. She only received advice from her mother-in-law. Thuy began feeding the baby porridge at three months old and now she knows this is too young.
Every morning Thuy makes breakfast for her daughters. Their porridge is made with meat, egg, and sometimes shrimp orcrab caught by her husband in the field near their home. Thuy said that through the ChildFund training, she learned that meat like shrimp and crab provide protein to help their children grow.
Thuy plans the meals she cooks for Lan and Hoa, always making sure that the meal is full of vitamins and nutrients that will help them grow. She said: "I often add a little bit of oil or fat to my child's porridge to help him gain weight and absorb vitamins better. Mothers with malnourished children in my neighborhood often talk with each other, and now they all feed their children oil or fat, unlike before when they were afraid to feed the children fat."
When Lan and Hoa were sick, Thuy took her children to the local health station for a consultation and treatment. On top of this, the information in a book given to her by the training has helped her care for her children if they are unwell. As the twins turned three years old, Lan and Hoa were no longer malnourished. Thuy said: "My family is very fortunate to have been consulted and guided by the medical staff to take care of the two children properly and to have been supported by the project for nutrition for the children."
She said proudly: "I was so happy when the nurses at the health station said my children were no longer malnourished. Now that they have grown up well and are no longer malnourished, I am even happier."